Plants Index
Dioscorea bulbifera
Several non-native genera
Schinus terebinthifolius
Pyrus calleryana
Ligustrum sinense
Triadica sebifera
Imperata cylindrica
Lygodium japonicum
Microstegium vimineum
Sorghum halepense
Pueraria lobata
Ailanthus altissima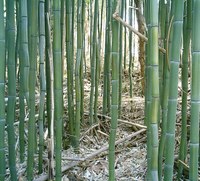 Caryn Rickel, Institute of Invasive Bamboo Research, Bugwood.org
Bamboo
Several non-native genera
Bamboo is a type of evergreen grass that is capable of rapid growth, sometimes growing over an inch per hour. Many species of bamboo are grown as ornamental plantings, most of which are not native to North America. Bamboo spreads rapidly and efficiently, creating monocultures which support very little biological diversity. These plants can crowd out other plants, and require active management to ensure the bamboo doesn't spread into unwanted areas.
There are no Webinars at this time.
There are no Resources at this time.